In this guide, we will review the ispmanager site and server control panel in detail and tell you about its main advantages and versions.
What does ispmanager do
The ispmanager panel helps you to install and manage web services. It deploys all the required software to maintain websites, mail, and databases. It lets users run projects in a ready-to-use web environment and then manage them in a graphical interface, without the need for a console.
The ispmanager panel is helpful for web developers, system administrators, and site managers. The panel significantly simplifies server administration, which means it can be used not only by skilled professionals but also by newcomers.
The latest version of the panel is ispmanager 6. It has an improved interface, a more proactive bug-fixing system, system monitoring, advanced tools for developers, and support for major CMSes.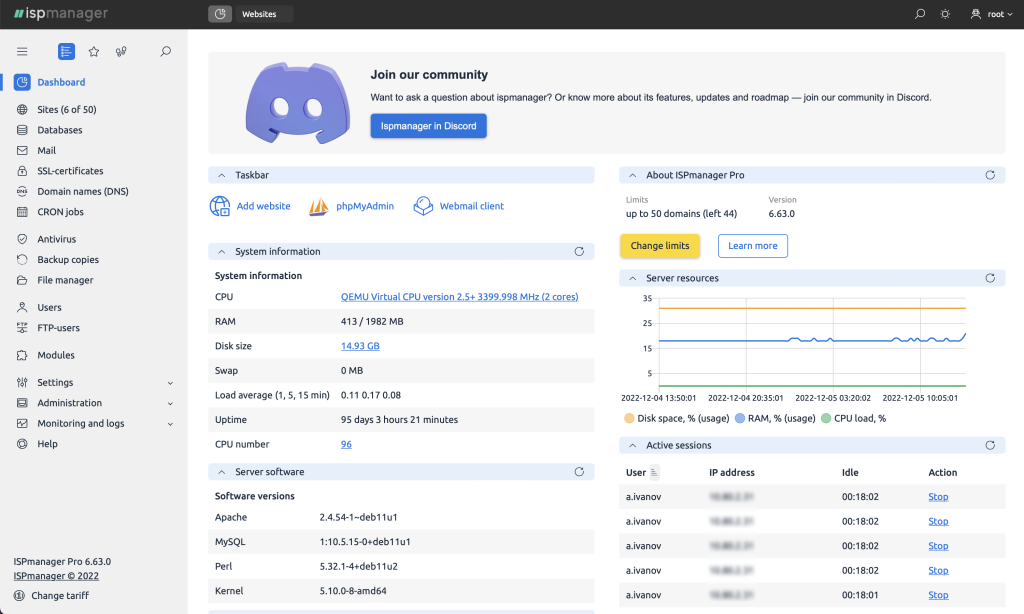 The key features of the ispmanager panel
Web server support and management. You can install and configure web servers such as Apache, Nginx, and OpenLite Speed from the panel. There is no problem with further administration.
Mail domains creation and mailbox management. You can use the panel to create a mail domain and mailbox, adjust rules and restrictions, use anti-spam and anti-virus protection, and connect Roundcube web interface. It is possible to get a configuration file for mail clients.
Database support and management. MySQL/MariaDB, PostgreSQL, Percona Server.
Website creation and management. The ispmanager panel includes tools for simple work with websites at all stages: from installing CMS to adding content.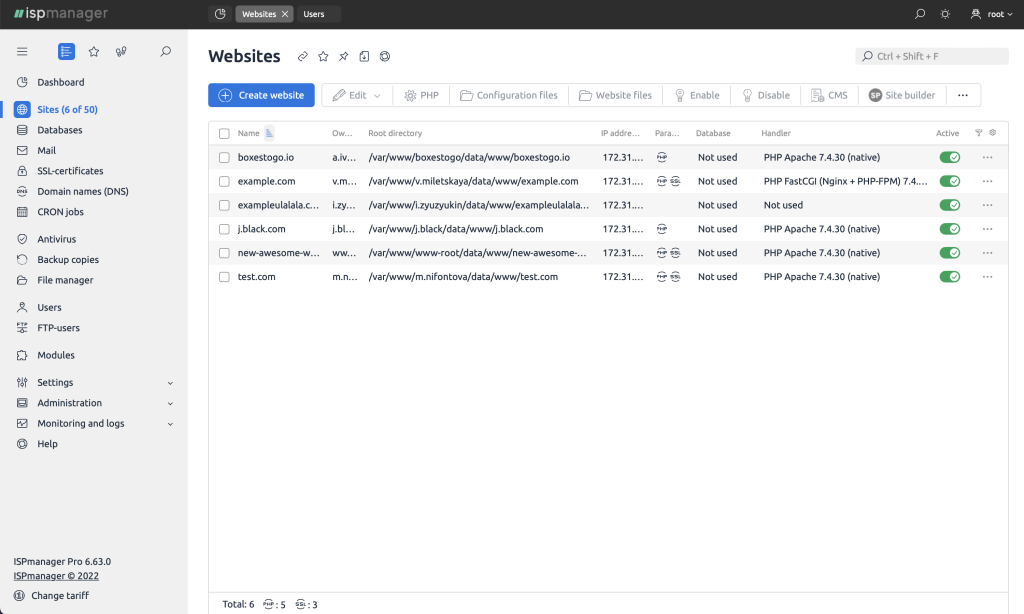 File management. The graphical file manager supports downloading large data volumes without connection loss. It also supports popular FTP servers.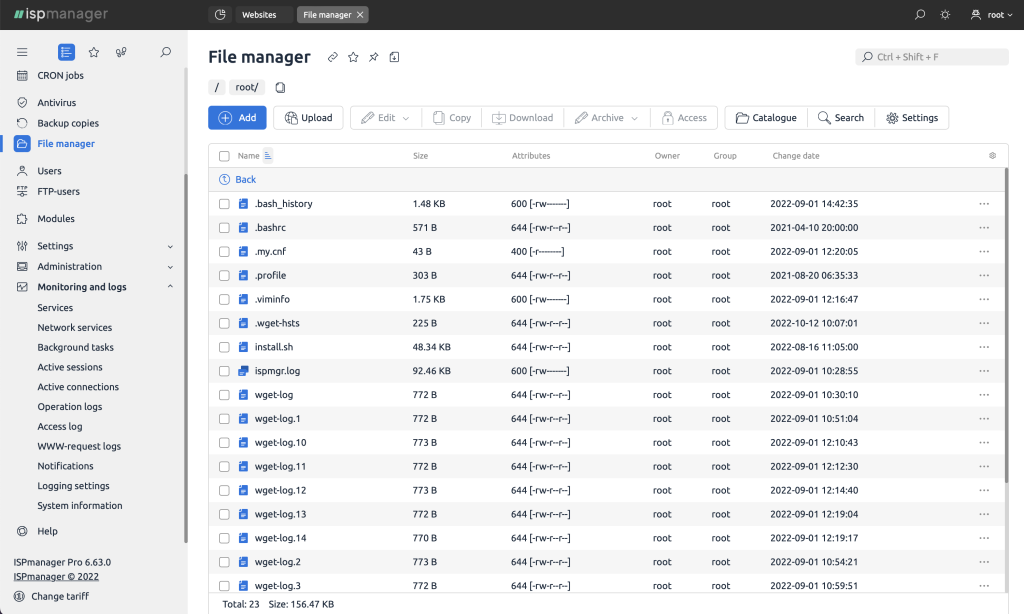 Programming languages support. It is possible to add Python and Perl straight from the panel, without further configuring the repositories. You can choose the PHP interpreter version and mode for a separate site. It supports Node.js handler and PHP Composer.
Server and site protection. It includes tools for server backup, mail protection, firewall, response to DDoS attacks, and high-quality anti-virus Dr.Web to keep your system protected.
Dark and light theme. Ispmanager follows all modern design trends and takes care of user experience. Dark theme is a smart solution, which makes it more convenient to work in a dark place.
Which ispmanager version will be the one to choose?
Today, four versions (licenses) of the ispmanager panel exist. There are three versions — lite, pro, and host — which are mostly used for deploying and administering sites on VPS or dedicated servers. Licenses vary in the number of domains that you can manage. However, if you are an internet hosting provider and would like to offer a panel to your customers, the business version is the right option for you. Let's look more closely at the features and differences.
Ispmanager lite is ideal for freelancers and web studios that have a small number of projects — no more than 10 domains. However, a lot of team members can work with the panel: the total number of user accounts is unlimited. The version provides all the necessary tools for a developer: it allows you to configure web servers, make websites, and add extra modules.
Ispmanager pro has the same features as the lite version but also supports a maximum of 50 domains, so it is sufficient for a larger number of projects. Additionally, it has a complete module to work with Docker technology.
Ispmanager host has the same functionality as the pro version, but without limiting the number of domains, which means that it is suitable for large web studios.
Ispmanager business
Ispmanager business significantly differs from other versions and is designed for service providers. The business version supports shared hosting:
manages a cluster of servers;
allows setting up reselling;
allows limiting RAM, and CPU for users, to ensure that "neighbors" in hosting do not disturb each other.
We've put together the main differences between the versions in a useful table to help you choose the best version for your needs.
Lite
Pro
Host
Business

For web developers and site administrators. Can be purchased from a provider or installed directly on VPS, dedicated servers

For providers and resellers

Up to 10 domains

Up to 50 domains

Unlimited number of domains

Unlimited number of domains

For one or more projects

For the average number of projects

To support a large number of websites

To start a business with ispmanager
The version of ispmanager to choose depends on your needs and the number of projects you are going to manage. If you want to build and manage websites, the lite, pro, or host licenses are sufficient. If you prefer to run your own hosting and reselling service, choose business. If you order our servers, either VPS or dedicated, then you can pick any version of ispmanager that meets your specific needs.