This guide will cover the main features and capabilities of ispmanager — the control panel for websites and web-server. We'll also talk about the interface, the differences between versions of the panel, and the support that ispmanager users can receive. You can choose this control panel when you order a virtual server with an operating system based on Linux distributions.
Learning the interface
If you don't want to work with the server via the console, you can use the ispmanager GUI. It's clear and user-friendly, and the settings required for the smooth operation of the web server are all set in advance and can be easily configured in the panel. The left side of the interface is the main menu, from which you can go to the desired settings: create a site, write to the DNS server, and manage the file manager. You can select the language of the panel — English and Italian languages available. Here you can also manage users: create an account for each and individually set the access permissions.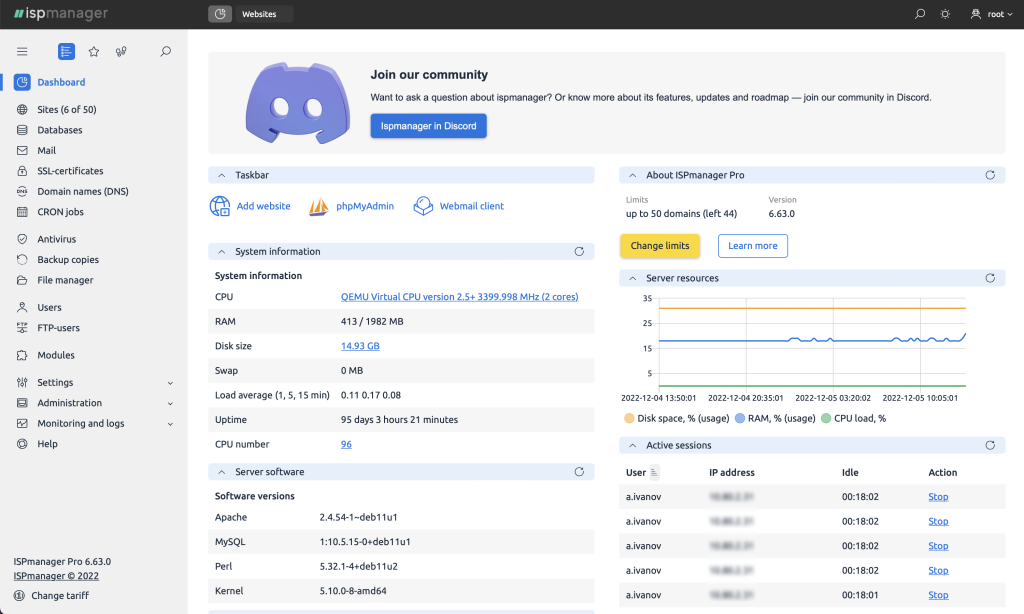 The core functionality of the ispmanager panel
Ispmanager is a commercial web server panel. It helps to create and manage websites, e-mail accounts, and databases. We will take a detailed look at the panel's features.
Website creation. With ispmanager panel, you are able to connect a domain, configure PHP and Node.js, install an SSL certificate and CMS, or create a site using the website builder.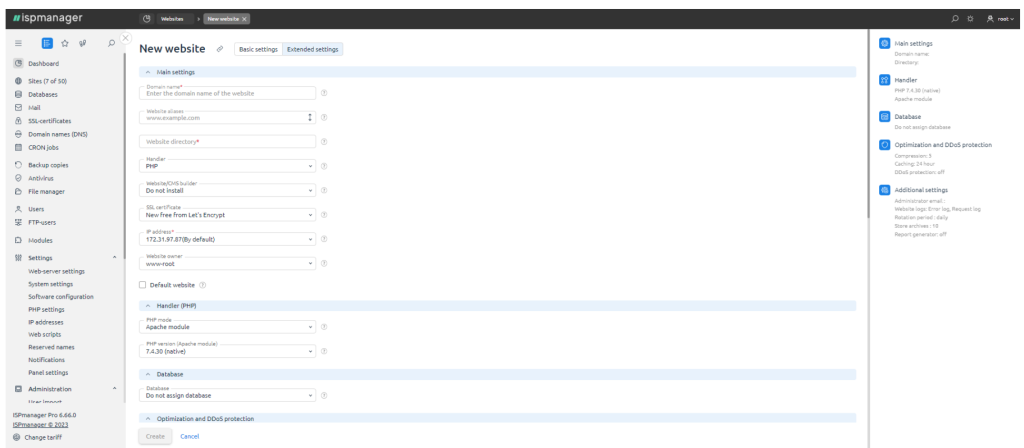 Work with PHP. The ispmanager panel significantly simplifies working with PHP: it supports different modes and alternate versions for each host, extensions, and the Composer package manager.
Node.js. The ispmanager panel supports Node.js: you can set up different versions and divide applications between users.
DNS server. The panel includes its own DNS server, and the ability to connect external ones as well. For phishing protection, there is support for DNSSEC, an extension that generates a unique digital signature for NS records.
Email domains. The ispmanager panel provides support for managing a mail server on its own domain. Includes transition to the Roundcube mail client and a large selection of tools to protect against spam and viruses: blacklists, email header analysis, behavior-based blocking, and much more.
Databases. You can create database servers directly from ispmanager. It supports MySQL, MariaDB, PerconaServer, PostgreSQL. It is possible to install a dedicated version of DB for any site and manage user access to the database.
SSL certificates. A great benefit of ispmanager is that it supports free SSL certificates from Let's Encrypt. They are automatically installed and extended. However, you can add any commercial certificates to your site if you need advanced protection.
File manager and FTP. The panel includes its own file manager with a code editor, and you can also manage FTP access: add users and grant access rights.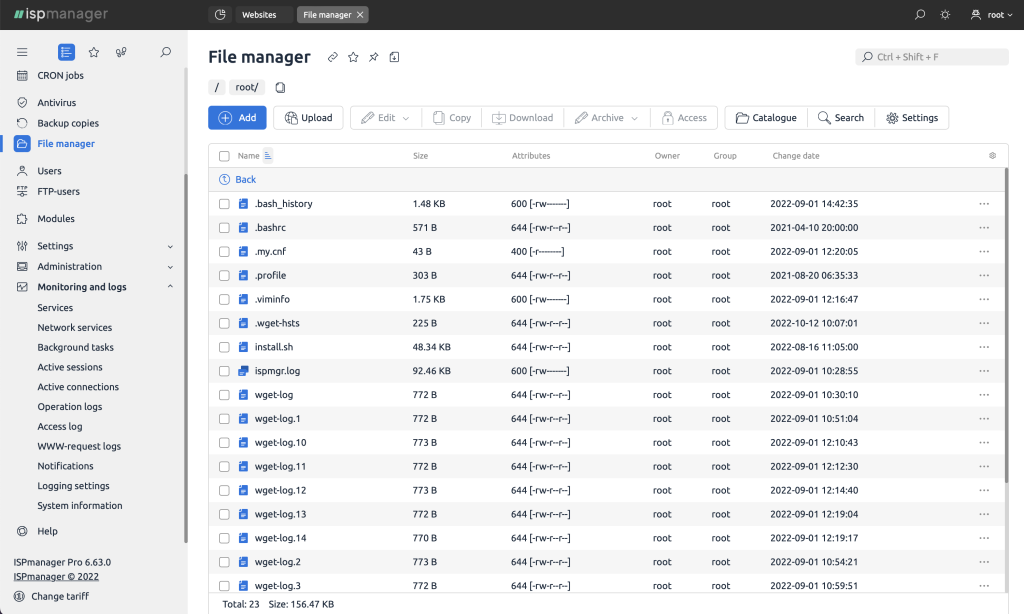 Backups. The panel backs up user data. It supports saving backups directly on the server and to external storages, even cloud storages.
Modules in ispmanager
Besides the basic tools, a lot of which are included in ispmanager, there is an opportunity to add extra modules that improve functionality. There are both free and paid modules. Here's a look at several of them.
Dr.Web is a commercial antivirus module for websites. It detects and eliminates threats and scans the system.
DDoS-guard is a commercial DDoS protection module. It works on the principle of a reverse proxy server: it allows all traffic to pass through the network of servers and filters malicious traffic. Apart from the attack prevention itself, the module can act as a CDN (content delivery network), thus speeding up the download of images, videos, and other media content.
Softaculous is a tool for deploying web applications. The module is free, but there are some paid scripts. The library contains more than 400 scripts and CMS. With Softaculous you can not only install them, but also update them automatically, and this is very important for the security and performance of the site.
Site.Pro is a module in ispmanager that is widely used to create a website using the website builder easily. In ispmanager is presented a free version, and it is already possible to make a beautiful informational site based on one of the dozens of templates.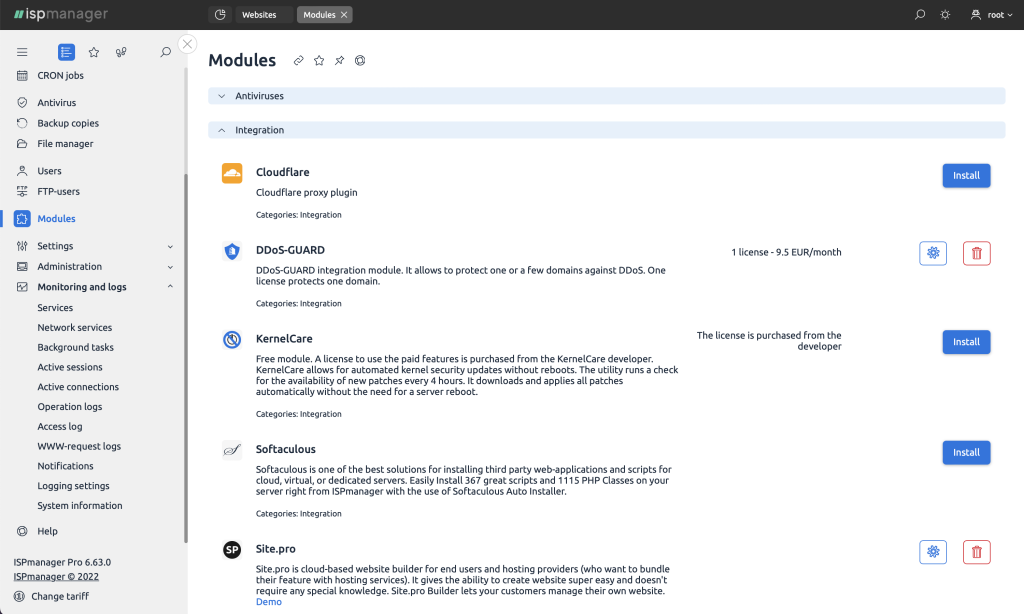 The differences between versions of ispmanager
The ispmanager panel is available in various versions (licenses): lite, pro, host, and business. Let's take a closer look at the features and differences.
Ispmanager business is intended for shared hosting. The primary difference from other versions is the possibility to manage a cluster of servers. This version often suits web-hosting providers or companies that manage a lot of web projects.
Lite, pro, and host are the most popular versions of ispmanager. Any of them can be deployed on a single VDS/VPS or dedicated server. The ispmanager lite, pro, and host versions differ in the number of sites you can create in the panel.
We've put together the differences between the versions in a helpful table to help you decide which version is best for you.
Lite
Pro
Host
Business

For web developers and site administrators. Can be purchased from a provider or installed directly on VPS, dedicated servers

For providers and resellers

Up to 10 domains

Up to 50 domains

Unlimited number of domains

Unlimited number of domains

For one or more projects

For the average number of projects

To support a large number of websites

To start a business with ispmanager
You can also find out more about the differences in the versions in our article: "How to pick the most suitable version of the ispmanager panel for your purposes".
About the developer, updates, and documentation of ispmanager
Ispmanager is one of the most popular panels with an eighteen-year history.
The first release, ispmanager 4, was published in 2005. The current version — ispmanager 6 — has been released in 2021.
Updates for ispmanager are available every two weeks. New features first appear in the beta branch, then, after further testing, in the stable. The software has an open roadmap, so you can see which new features are scheduled to be released and vote for them.
Ispmanager has complete documentation in English. There are also unofficial user manuals available on the Internet.
How to get ispmanager on a VDS/VPS
You can order Linux servers (VPS or dedicated) and select any version of ispmanager for your specific needs straight in the server order form.