The data are not recoverable. Adobe apologizes to any customers affected by this issue.
August 18, 2020 will be a memorable date for many Adobe Lightroom users. The App updated to version 5.4 for iPhone and iPad usersd suddenly started deleting photos and ready-made presets. The same update was responsible for some users having lost watermarks data stored on their devices. However, users whose gadgets were synced to the Lightroom cloud, as well as Android, Windows, and macOS users, found themselves in luck - their data had not been erased.
In such a way, for some users, thousands of photos which had been processed over several years - as well as hundreds of US dollars spent on purchasing presets for accelerated photo processing - all disappeared after a failed update.
Both paid subscribers, who opened the App after updating it to version 5.4, and those who installed it from the AppStore on August 18 and chose a free trial period, faced a system bug.
All users who lost their data did not have Lightroom cloud sync and did not keep backups of their files.
On August 19, the next update 5.4.1 was released. It did not delete files, but neither did it help in recovering the erased data. An Adobe official has apologized to the users affected by this issue and noted that it is not possible to recover deleted photos and presets.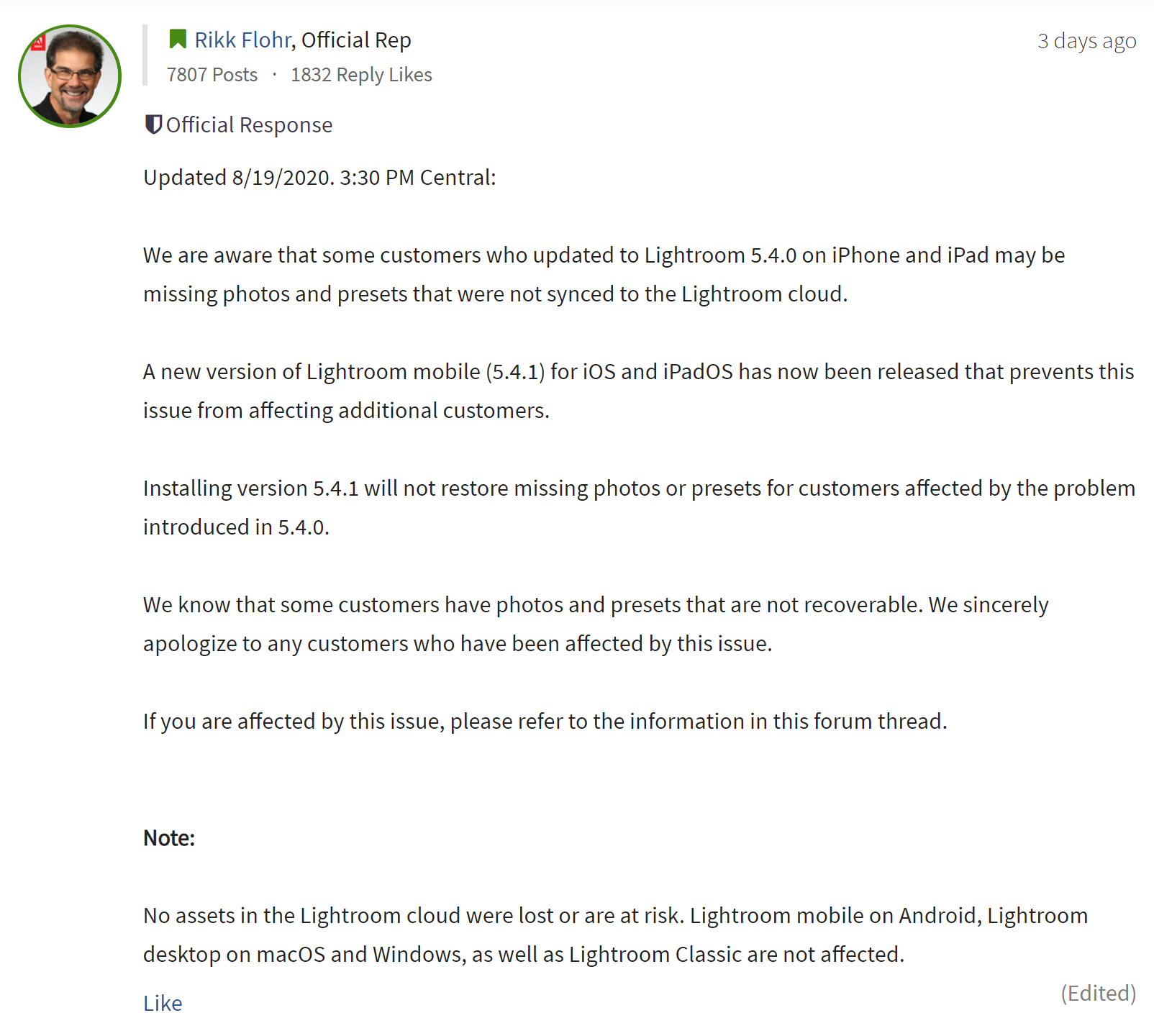 Some lucky users were able to fully or partially recover the data deleted by the application. They were those who either set up synchronization with the Lightroom cloud, or who made backup files in other places.

We endeavor to regularly remind you that the best protection against such problems is a timely backup of all important data. There is a 3-2-1 backup rule, offered by photographer Peter Krogh. It states that, in order to ensure data safety, you should have three copies on two different media, with one copy off-site. Alternatively, you can keep your data on the servers in a reliable data center or in cloud storage, where data is stored in several backups on different servers. It helps to ensure the safety and availability of files even if one of the servers stops responding or fails.