You can manage access to your server's IPMI from the Internet in your Account at Host-telecom.com. Access restriction is implemented due to security reasons.
Here's what you can do:
Completely block access to the IPMI address
Allow access from specific IP(s) and set the expiration time.
Allow access from specific IP(s) permanently (no expiration date)
Add both temporary and permanent access rules
Allow unrestricted access (we strictly do not recommend this option due to security reasons!)
Once you logged in your Account you can use "IPMI management" menu (picture 1).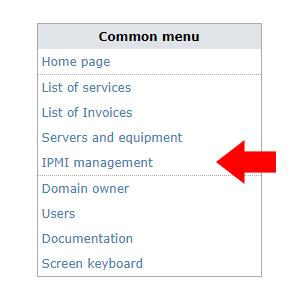 You get a list of all your servers equipped with IPMI controller and can select a checkbox for the server you want to change access to. To open the access configuration please click on "Open/prolong access" button (picture 2).

Please note that servers without IPMI controller are not displayed on this page.
You can choose between the temporary, permanent or unlimited type of access (1) to be open and also input the IP address (2). The system automatically fills out your current IP for your convenience. You can manually set any other IP though (picture 3).
You can add multiple IPs - one in a row, or add (/24) subnet if you provide 3 out of 4 octets (for instance, 193.161.84).
After you click on the "Run" button, all changes take place after 1 minute.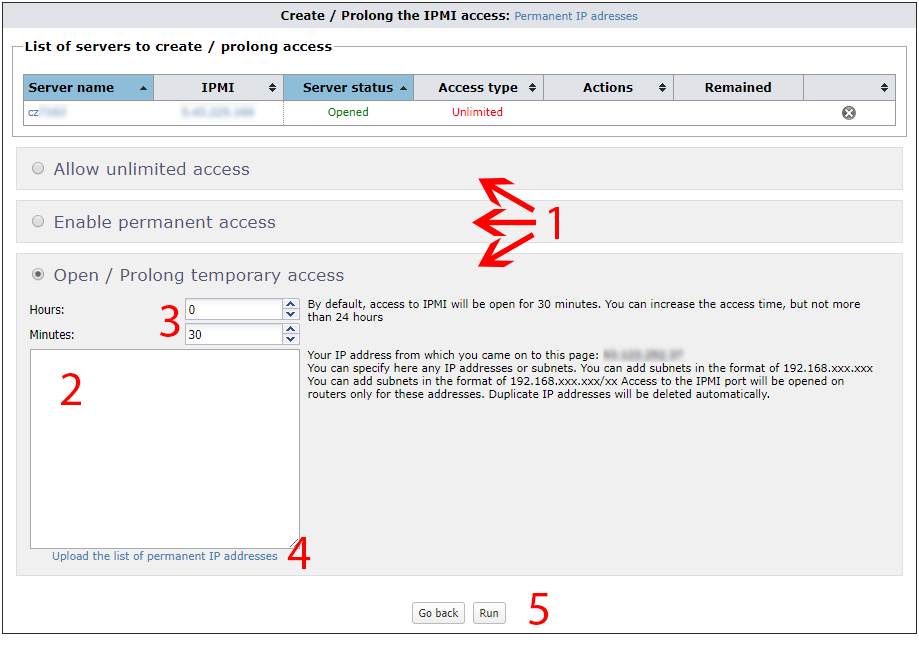 Set the period of time (3) for the temporary access (by default it's 30 minutes, the maximum is 24 hours).
Please note that for your convenience you can create lists of IP address and then use it for providing/revoking access in bulk (4).
You can also update the list of IPs and extend access time if it's already configured for some server. 'New' time is added to the remainder and applied to the whole IP address list.
Be careful! Technically you can allow unrestricted access to your server's IPMI, but we strongly recommend not to do that because of security reasons. In this case, your IPMI address is accessible from any IP on the Internet.
You can combine temporary (if it's required occasionally) and permanent (for IPs that you constantly use to operate the server) types of access for a server.
If you configure both temporary and permanent access to your server from the same IP, it's granted with permanent access.
To revoke any type of access, please select server(s) and click on "Close access" button. Changes take place after 1 minute (picture 4).

You can use SuperMicro IPMIView app to work with IPMI KVM-console. It has a richer feature set compared to web-interface. It's available for Linux and Windows and as a cross-platform Java app.
The tool is available on the official SuperMicro website (sign in required) or FTP: ftp:// ftp.supermicro.com/utility/IPMIView/
You need Java support on your machine to use KVM console, no matter what you use - web-interface or IPMIView.
If you have issues with the IPMI access, email us at support@host-telecom.com