The t-shirts, spinners, geekos, flipflops, hats, and other tchotchkes have been dispensed. The barrels of coffee and contents of thousands of box lunches consumed, and the OpenStack Summit in Sydney has concluded.
As for Host-Telecom, we had a great time meeting our colleagues, hearing their thoughts and talking to attendees about the kinds of solutions they are looking for and the solutions we need to develop and perfect for the OpenStack cloud market. In between, CEO Pavel Chernobrov also had time for a good talk with our old friend Boris Renski, CMO of Mirantis and a longtime Host-Telecom customer.
New to the summit, but not to OpenStack
While this was our first OpenStack Summit, Host-Telecom has been involved with the community for years, serving Mirantis as its offerings have evolved over time. Host-Telecom continues to create custom data infrastructures to test and support their solutions, giving Mirantis developers a real-time view of how things work in production.
Noting the ease of working with us, Renski said Host-Telecom communicates extremely effectively with his team and gets Mirantis' needs right out of the gate to deliver exactly what's needed. Chernobrov added that winning Mirantis' business is always competitive and credited the expertise of the Host-Telecom team for creating innovative IT infrastructure, made to order.
Just as keeping existing customers happy is vital, so is reaching out to new ones. With a presentation on VMware to OpenStack migration, we did just that.
Host-Telecom - OpenStack on bare metal and beyond
Our Tuesday presentation highlighted how we are trying to expand the OpenStack user base with our bare metal options, customized data infrastructure services, data replication and disaster recovery servers. Of particular interest to attendees was the main dish of VMware to OpenStack migration.
Seva Vayner from Host-Telecom along with partner Nickolay Smirnov, CEO from Hystax, painted a clear picture of what it means to get off VMware and why you should make the move. Displaying the VMware vSphere console and complicated maps of other migration paths, it was easy to see the many advantages of moving to OpenStack. And of course reducing software licensing fees makes it even more enticing.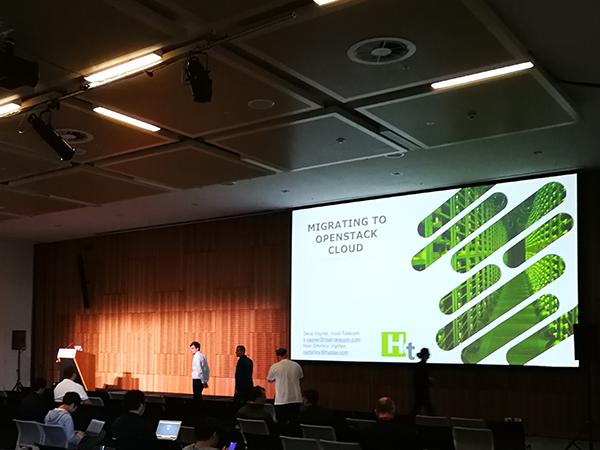 The technical details
The software behind our data backup and disaster recovery services installs an agent on the client side that converts data and infrastructure architectures, including VMware vSphere, HyperV, and Virtuozzo platforms, to run on bare metal OpenStack. In case of data compromise or infrastructure failure, the system immediately and seamlessly begins to run on bare metal OpenStack, which is transparent to the user.
Disaster recovery uses the same OpenStack-based agent software as data backup to track data infrastructure architecture and changes, including network mapping, configuration settings, connections, and application interdependencies. In addition to replicating data, the agent transmits system snapshots to storage at specific intervals or continuously, depending on user requirements. All are modified to run in a bare metal OpenStack environment. If infrastructure fails, users start running seamlessly in OpenStack, though it looks and acts like their original infrastructure. Which brings us at last to OpenStack migration.
Moving to OpenStack for real
With Host-Telecom's data backup and disaster recovery services, users are already running on OpenStack under the covers. The same agent that enables those services also provides a fast and easy migration to OpenStack cloud. VMware to OpenStack migration is already available, with paths from other platforms in the works.
And when you do get to OpenStack and start considering object storage, check out the advice I gave in my own presentation about engineering a sound infrastructure for Swift that scales. Expanding clusters isn't the only answer. You can use JBODS, and must definitely rebalance if you want performance without latency and data compromise.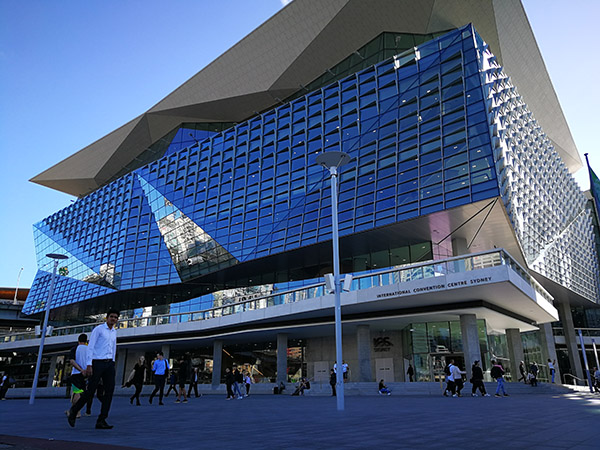 Goodbye to Sydney
As we wave goodbye to Sydney, we look forward to meeting market imperatives that call for simplifying cloud solutions. We believe in the power and flexibility of OpenStack and that it's a great platform for users. Returning home, our work continues to make migration simple and to keep adding services that customers need as they run their businesses day-to-day.
I also want to announce young Mr. Jonah Spector as the winner of our campaign to both free our kangaroo and give him a name of distinction. As the kangaroo rose to the top of a pile of business cards from folks who stopped by our table, it escaped its confinement and now runs free as Hooper the Kangaroo! Congratulations, Jonah! Hooper is very happy and digging his new name and his new-found freedom!
BY
Denise Boehm